Introducing "Rikuro Ojisan's Yakitate Cheesecake" The Famous cheesecake shop in Osaka Japan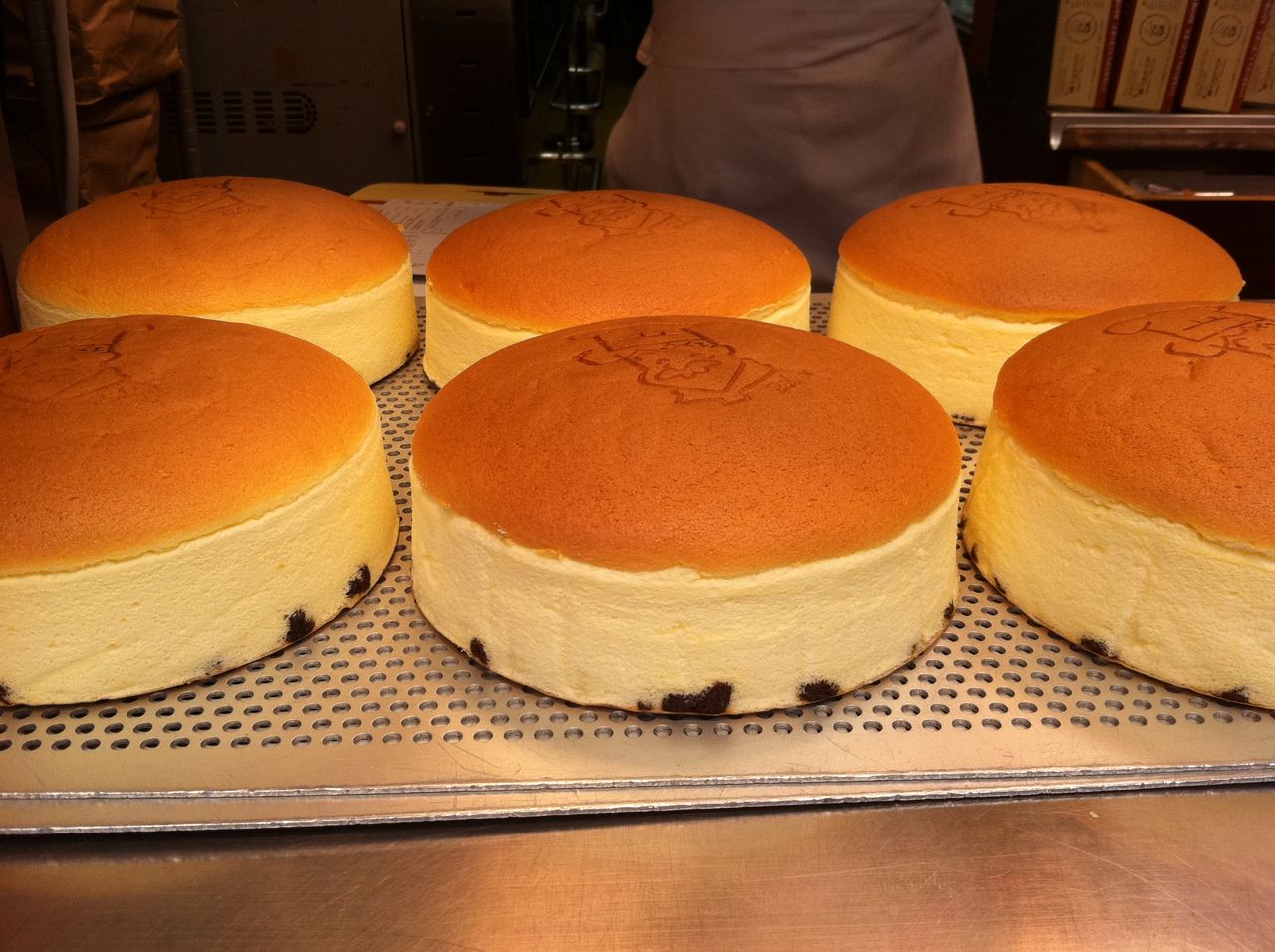 It's astonishing you can buy a just baked round cheese cake for just 685 Yen. It's so delicious for such a reasonable price that you often hear people bought like 5 cheesecakes at a time.It's one of the nice sweets that represents the Kansai area in Japan. We will introduce this "Rikuro Ojisan's Yakitate Cheesecake" in this article.
#一時期狂ったように食べてたもの選手権
りくろーおじさんのチーズケーキ
週一で食べてたら怒られました() pic.twitter.com/t1xmvq2tv4

— 東雲 悠紀 (@yu_ki_030) 2018年3月7日
The story of "Rikuro Ojisan's Yakitate Cheesecake"
"Rikuro Ojisan's Yakitate Cheesecake" is a sweet shop specialising in cheesecaks.You may recall the shop seal of the old man if you're already familiar.The founder, Mr. Rikuro, opened his own shop when he was 23 years old. He first started from selling "Dorayaki" a traditional Japanese sweets, by bicycle. Several years after establishment, he started to sell freshly baked cheesecakes. From there, Mr.Rikuro's cheesecakes reached a big break.
名村を下見したついでに周辺スポットを…遠方から名村を訪れる人は是非とも
・サノヤス造船所向かい、螺旋橋を渡った先の巡視船撮影スポット
・りくろーおじさんのチーズケーキ
・りくろーおじさん真裏のO阪府警第二機動隊
をオススメしたい(`・ω・´) pic.twitter.com/ngeXFTIv9u

— えるいー@RTF装備 (@erui_LE) 2018年3月9日
About the cheesecakes of "Rikuro Ojisan's Yakitate Cheesecake"
The cheesecake of this shop is superb! They use rich delicious cream cheese directly imported from a traditional cheese factory in Denmark.The eggs which is one of the main ingredients for the the dough, are selected very carefully.One of the features of their cheesecake, is that they have raisins inside.The raisins are special, they are put in a special original syrop, and the cheesecakes a good accent. They have a policy to deliver the freshly baked cheesecake, so they don't stock much in the store. They are sometimes sold out even on weekdays, and you need to wait for the freshly baked cheesecakes to arrive from their cheesecake factory.
りくろーおじさんのチーズケーキふわふわで美味しそうだなぁ☺
宅配サービスもしているのね。わ〜い♪ pic.twitter.com/IEABcEyEif

— Rub a dub dub (@afternoon011) 2018年2月27日
I tried eating the cheesecake of "Rikuro Ojisan's Yakitate Cheesecake"
I had a chance to go to Osaka, so I bought this famous cheesecake in Umeda.This man is Mr.Rikuro, the founder.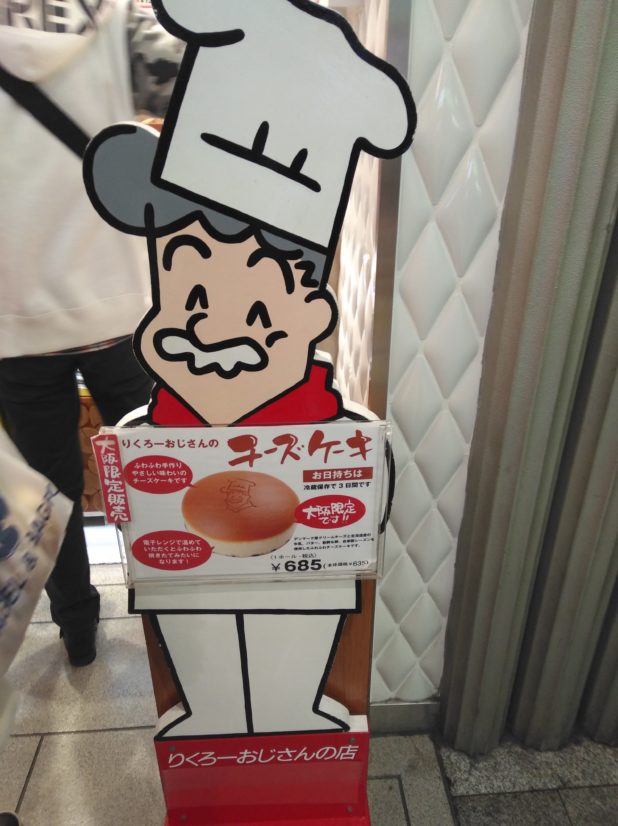 The big sign stands out!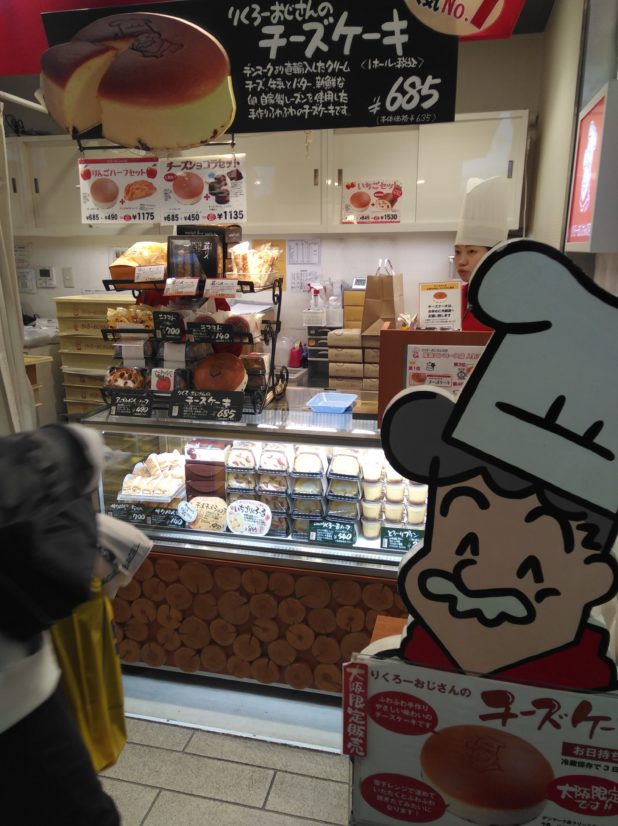 This is the famous cheesecake!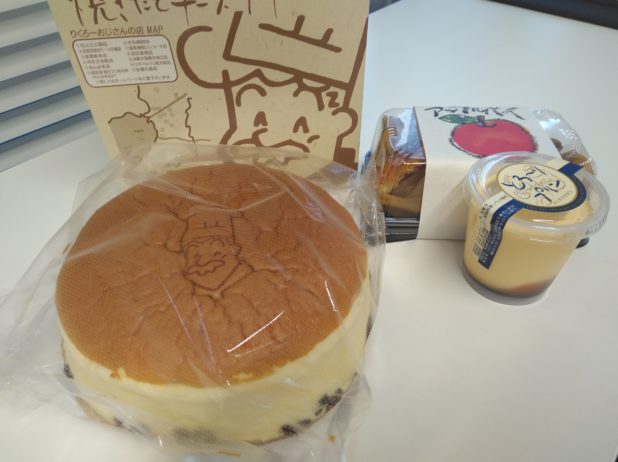 I can't believe this cheesecake is only 685 yen!
I bought a pudding and apple pie too.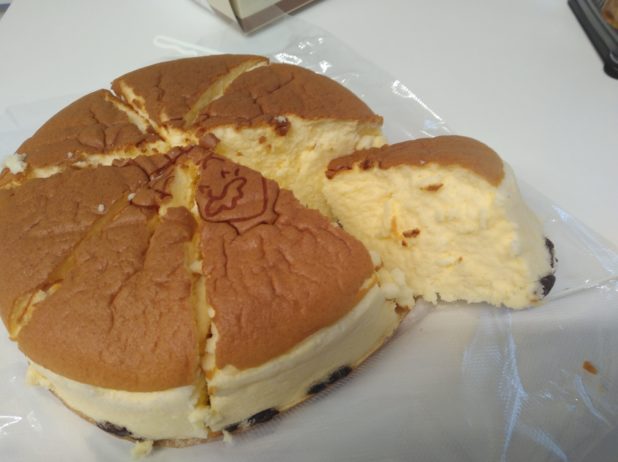 I tried eating!
It was very soft fluffy like souffle, and very moist unlike normal baked cheesecakes.
The sweetness was perfect too! Not too sweet with a nice accent from the raisins mixed inside.It's astonishing that they are able to provide freshly baked cheesecakes, with this high quality, for this reasonable price!
I will introduce my thoughts about the pudding and apple pie too.
Actually, the apple pie and pudding were quite normal.The apple pie was nice and crispy, but not outstandingly delicious. But not bad either.
Summary about "Rikuro Ojisan's Yakitate Cheesecake"
How was are article about "Rikuro Ojisan Yakitate Cheesecake"? When a friend of mine first introduced me the shop, he told me not to expect too much, since it's only 685 Yen. I took his word, but was surprised by the unexpected nice taste. We hope this article has given you interest to visit the "Rikuro Ojisan's Yakitate Cheesecake" in Osaka Japan!

Shop information
shop name
: "Rikuro Ojisan's Yakitate Cheesecake"
Adress:大阪市中央区難波3-2-28
Opened:Everyday